Este anuncio no ofrece ningún servicio sexual, por lo tanto, no pregunte al respecto.
Natalia TANTRA-LYSANDE
Ahora situado en Stockholm
Precios:
Comentarios: satisfacción general
Bueno: 0 | Malo: 0
Descripción
LYSANDE TANTRIC MASSAGE

💋Welcome Dear clients.💋
We are a professional massage studio in Stockholm.

We are prepare and happy to provide you the best service. We want to spoil you and take care of you with love. Our masseuse team is here just for YOU❣️

Do you have a lot of work and you are tired of the daily rutine and everyday stress? Then this is perfect place for you..
Come to relax and enjoy beautiful sensual relaxation with our attractive masseuses, which will take care of you perfectly. You will forget all the problems and escape from reallity for a while..
Masseuses will guide you through the entire massage ,from beginning till the end, when you release all the negative energy and recharge new positive spirit! You will fell like in seven heaven.
If you want to experience something sensual ,sexy ,relaxing ,entertaining but don't look for sexual services, you are at right place.

We Have beautiful cozy apartment in new building. everything is super discreet. Our massage room is pleasant with a lovely atmosphere, you can see the real photo in the advertisement. Parking is free and we look forward to seeing you.

All details and informations are on our website



👉 Today massages: NATALIA



💰PRICE LIST💰

❗️We accept only CASH❗️

❤️TANTRA MASSAGE❤️

⏳60 min ......... 1500 Sek
⏳90 min ......... 1850 Sek
⏳120 min ......... 2150 Sek

❤️❤️NURU MASSAGE❤️❤️

⏳60 min - 2000 Sek
⏳90 min - 2500 Sek
⏳120 min - 3000 Sek


🚨 Special offer 🚨

❤️❤️You can choose one 4 extras for a special price of 1000 Sek ❤️❤️


🔥EXTRA SERVICES🔥
⭐️Extra body to body.......300 Sek
⭐️Foot job .......................300 Sek
⭐Shower together .........300 Sek
⭐Double lingam massage.......500 Sek
⭐BDSM light 400kr, BDSM hard 800 Sek
⭐Prostate massage......300 Sek

WE DON'T PROVIDE ANY DISCONOUTS AND YOU CAN'T MOVE WITH PRICES, SO PLEASE DON'T ASK FOR IT.

📞CONTACT 📞

+46 700749190

Contact our reception for more informations and order. We prefer WhatsApp!!

⏱️OPENING HOURS⏱️
We are open for you, every day.
From 9 - 22h.

❗️❗️❗️WE PROVIDE JUST TANTRIC MASSAGE, IT'S NOT SEXUAL SERVICE,SO PLEASE DO'T ASK FOR IT❗️❗️❗️
Contacto
Acepta sms: Sí
Acepta mensajes de WhatsApp: Sí
Conteste números secretos: Sí
Diga: Encontré su anuncio en RealEscort
Hablo:
English: Medio
---
Dígame por favor que usted encontró mi anuncio en www.realescort.se
General Warning!
NEVER SEND MONEY IN ADVANCE if you book an escort service!
These ads are mostly and probably SCAM. They usually require your verification as a new client
by sending a certain amount of money by Paysafecard, coupons, Google play card, PayPal etc.
This is a general warning we give to all visitors, it is not about this specific ad you are visiting.
Mis compañeros de trabajo
Stockholm
15. Junio - 31. Julio
Anuncio prioridad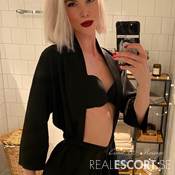 Stockholm
15. - 19. Junio
Anuncio prioridad
Servicios
El icono de advertencia rojo significa que el servicio tiene instrucciones especiales, haga clic para leer más.